FAQs when considering a Wet Room Floor Former or Wet Room Flooring
We frequently get asked lots of questions about wet room floor formers and their installation into wet rooms.
Please see below answers to the most common questions. If you need any additional information or need clarification on anything, please contact us.
At the bottom of the page there are links to the most popular floor formers split into 2 groups. Standard waste and Linear waste wet room floor formers.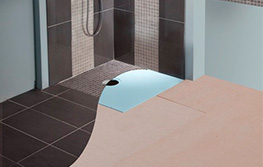 Q:

Do you need to cover the whole wet room floor with a floor former?

A: No you do not have to cover the whole wet room floor. The floor former only needs to cover the showering area. If you have an open room without shower screens then the larger sizes of floor former would be advisable.
Q:

Can a wet room floor former be cut or trimmed to size?
A: Yes, all of our wet room floor formers can be trimmed or cut to size. Details on limits are available on each product page.
Q:
Can a floor former be used in a wooden floor on joists?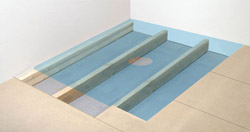 A: Yes, wet room floor formers can be installed directly onto wooden joists as long as you build in additional support around the edges of the floor former. Each floor former varies slightly, installation instructions and further details can be found of each product page.
Q:
Can a floor former be used in a concrete floor?

A: Yes, wet room floor formers can be installed into a concrete floor as long as you can excavate a channel in the concrete floor so that the waste gulley and pipework can be accommodated. We have a large range of waste outlets available, some of which are quite shallow in depth. Call us if you need advice selecting the most suitable waste outlet.
Q:
Can a floor former be finished with vinyl sheet flooring?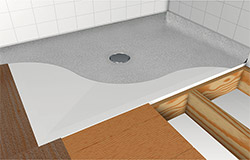 A: Yes, all of our standard floor formers can be overlaid with vinyl sheet flooring. Only the Linear floor formers are restricted to tiled flooring finishes only. There is a selection of round waste outlets available for vinyl sheet safety flooring which are suitable for use with all of our wet room floor formers.
Please contact us if you need clarification.
Q:

Can wet room floor formers be used for showering in a wheelchair, shower seat with legs or other point loading device?

A: Yes, all of our wet room floor formers are designed for point loading and therefore can be used for showering in conjunction with a wheelchair or shower seat with legs. Each of our floor formers have different load capacities, details of each are given on the relevant product pages.

We also have a range of shower seats available.
Q:

Why do most wet room floor formers have an offset drain?

A: An offset drain aperture allows the installer to rotate the wet room deck to avoid joists which may run under the waste aperture.
All of our Wet Room Floor Former products have waste aperture positions and dimension drawings on the product pages.
Q:

What is the difference between floor former with a linear drain and a standard drain.

A: Linear decks have an oblong (linear) drain that runs along the length or width of the deck. A linear wet room floor former may be best where there is a requirement to drain a lot of water, as in the case of a mixer shower with heavy water flow. It is often chosen for its appearance and offers a contemporary finish.
Q:

Do wet floor floor formers need full support underneath?

A: No, most of our wet room floor formers do not need full under boarding. Some of the 'Linear' floor formers do require extra under boarding. Details are given n each product page. If used on wooden joists, you need to ensure that as well as the normal joists in the layout you install some additional support around the edge of the deck and possibly some additional support near the waste outlet. If used in concrete floor, just lay into the screed or sand and cement mix. Each floor former type will vary slightly and full instructions are available for each floor former on the product pages.
Q:

Do I need to waterproof / tank the wet room / wet area if I am tiling the floor?

A: Yes if tiling the wet room floor, the whole of the showering area floor in the wet room and at least a further 300mm (splash zone) around the showering area needs to be fully waterproofed / tanked prior to tilling. We also recommend that the walls of the showering area are waterproofed prior to tiling.
Q:

Do I need to waterproof / tank the wet room / wet area if I am covering the floor with a Vinyl sheet flooring finish?

A: No, if laying a good quality vinyl sheet flooring finish then the floor does not need to be tanked. You can still waterproof the floor if you want to make doubly sure but this is not normal practise. We would still recommend the walls in the shower area are waterproofed / tanked.
Q:

Do I need to waterproof the whole of the wet room?

A: No, you only need to waterproof the showering area and a further 300mm (splash zone) around the showering area. However if water is likely to ingress further into the room, then waterproofing a larger area is recommended to be on the safe side.
Q:

Why is the rest of the floor boarded before tiling?

A: To prevent floor tiles from moving and cracks appearing in the grout lines it is recommended the floor is boarded to create a solid inflexible base. Plywood is often used or thermal tile backer boards are ideal for this purpose since they also provides excellent insulation, particularly valuable if under tile heating is also to be fitted. Most wet floor formers are 22mm thick, except for the Contour showerdec which is 24mm thick, and so in order to achieve an even level floor area throughout the room the remaining floor needs to be boarded to match the wet floor former profile.

Most floor boards are 18mm thick and most floor formers are 22mm and so 4mm ply could be used over the rest of the room to keep the floor flush. In the instance where the floor boards are thicker, the floor former may need to be built up, you could achieve this by using strips of plywood of a suitable thickness under the floor former running along the joists and timber supports.
Q:

What size tiles can be used to tile over the wet room floor former?

A: Quite often, mosaic tiles are used with the Wet Room Floor Formers because their flexible backing sheet allows for the contours of the floor former to be followed. Larger format tiles will need to be cut with an 'envelope' shape to help maintain the fall to the drain. It is best to check with your tiler if you are in any doubt.
Q:

Can wet room floor formers be used with electric under-floor heating?

A: Yes, all of our floor formers can be used with electric underfloor heating systems. Sometimes installers lay the electric underfloor heating cables or electric underfloor heating mat to the rest of the room and leave the shower area as that area will be heated by the warm water from the shower. If you do want to heat the shower area it is often recommended not to use a high watt system and stick to the lower 100w systems over the actual floor former itself.
Q:

There are cheaper wet floor formers on the market, foam with cementitious coating, why are these so cheap?

A: The foam based products are not as strong and are not suitable for wheelchairs or shower seats. The wet room shower tray floor formers we offer are quality products with superior strength and can take heavier loads and point loading. They also save time with installation as most can sit straight on the joists. All of our products are from long established manufacturers who are synonymous with quality and guarantees.
Featured Standard Waste Wet Room Floor Formers
| | | | | | | | | | |
| --- | --- | --- | --- | --- | --- | --- | --- | --- | --- |
| | | | 12 sizes of Impey Aqua-Dec | | | 12 sizes of Impey Level-Dec | | | |
Featured Linear Waste Wet Room Floor Formers
| | | | | | | | | | |
| --- | --- | --- | --- | --- | --- | --- | --- | --- | --- |
| 3 sizes of Impey Aqua Dec with 2 falls | | | 2 sizes of Impey Aqua Dec with 3 falls | | | 3 sizes of Impey Aqua Dec with 4 falls | | | |